Now taking reservations for spring, summer and fall, 2023.
$75 per night for 1 rig, $110 for a party of 2 rigs.
stay 6 nights get the 7th free. $450 for 1 rig, $660 for 2 rigs.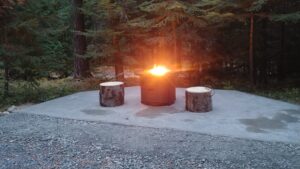 True wilderness camping
Propane fire pit
Picnic table
Exclusive, Private, Single Party RV Camping
Easy Access
Is a wilds RV camping experience for you?
Yes, if:
You enjoy your own company and love spending quiet time alone.
You love sitting by the fire listening to the owls hoot and the coyotes howl.
You don't mind a little dirt or a few bugs.
You love hiking, fishing, sitting under a tree reading a book, mountain biking, and even outdoor winter activities.
Being 12 miles away from the nearest store doesn't bother you.
You are fine with the possibility of interrupted, unpredictable cell phone service or with maybe having to drive a little way out the road to make a call.
Being alone in the woods sounds heavenly.
You love an adventure.
Having it all – full hookups AND a private wilderness camping vacation sounds amazing.