The Wilds RV Campsite
A new, better way to go RV camping.
Welcome to The Wilds! If you are looking for an actual RV camping experience, not another night crammed into a parking lot with a tree between you and the next guy, you found the right place.
The Wilds is a new type of camping adventure for people who want to enjoy the quiet and beauty of the wilderness AND the comforts of their own RV – a private, single party RV campsite carved out of the deep woods of Stevens County, Washington, 10 miles east of Colville. We have water, sewer and power hookups for up to 2 rigs, so come alone and hide out in the forest, or bring an RVing friend. Either way, your only neighbors will be deer, turkeys, moose, eagles, and all the other forest critters.
Tent spaces are available under the trees for the kids or anyone wanting to sleep closer to nature. We welcome hikers, mountain bikers, hunters, dawdlers, loafers, fishermen, tree huggers, families, pets, and campers of all ages and interests. Call for availability and directions.
Now accepting reservations for March – October 2023.
Call:
five zero nine six four zero four two two zero
This is "RVing"

Kind of like the Walmart parking lot.
This is Rv camping in The Wilds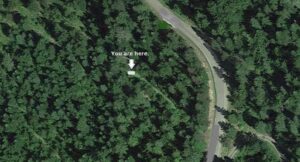 Please call for exact directions. This camp site is in the forest. Easy access, but Google maps can't get you there.
Address
1449 Squaw Creek Rd Colville, Washington 99114